The totally new 2012 Nissan NV at Grande Prairie Nissan is designed for the way you work.
The 2012 Nissan NV is your office, workshop and billboard on wheels
Standard on every Nissan NV Vehicle: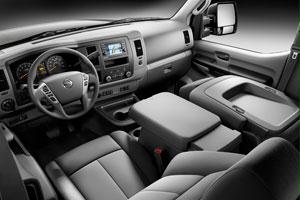 243° wide-opening rear doors
240.3" overall length
120" cargo length
Roof height 83.9"
Roof head room 48.2"
Cargo width 70.2"
Full-length, fully-boxed ladder frame
Dynamics Control (VDC) and Traction Control
Up to 10 roof rack mounting brackets for easy installation or roof mounted ladders or utility racks
Nissan asked what you needed out of your fleet vehicle, and they answered with 3 trim levels.
2012 Nissan NV1500
The NV1500 offers a standard roof and a V6 engine. This versatile work van is perfect for getting in and out of tight locations, like car garages and drive throughs, while delivering maximum storage and top class cabin space for its size.
261 HP, 4.0L V6 engine
234.1 cu. ft. cargo space
33 fully integrated mounting points for bins and shelves
V6 gives you 281 lb-ft of torque
2012 Nissan NV2500 HD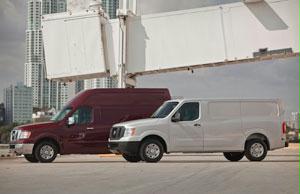 The NV2500 HD takes customization to the next level. The model gives you the option to choose from standard or high roof van designs and V6 or V8 engines. With the Nissan NV2500 HD, the versatile center console and power mirrors come standard.
261HP, 4.0-liter V6 or 317 HP, 5.6-liter V8
V6 gives you 281 lb-ft of torque
V8 gives you 385 lb-ft of torque
234.1 cu. ft. cargo space with the standard roof and 323.1 cu. ft. with the high roof
Standard (83.9") or high (104.9") roof options
2012 Nissan NV3500 HD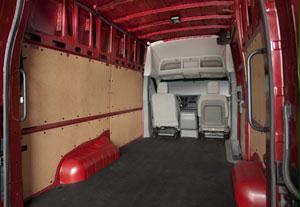 The big boy. The NV3500 HD boasts a 5.6L V8 engine standard and offers both standard and high roof options. With a final gear ratio of 3.54:1, you know you have the power to push, pull or carry your payload to get the job done.
317 HP, 5.6-liter V8
385 lb-ft of torque
234.1 cu. ft. cargo space for standard roof, 323.1 cu. ft. for high roof
Standard (84.9" on the 3500) or high (105.8" on the 3500) roof options
Do you need Cargo Management in your Nissan NV?
Adrian Seel has all the storage products you need to make your Nissan NV organized and efficient. The Nissan offering features an upfit incentive that allows you to get a Nissan NV equipped with Adrian Steel base upfit packages at no charge, or upgraded upfit packages at a reduced cost.
Nissan and Adrian Steel are committed business partners and they have teamed up to offer you the commercial storage products necessary to grow your business.
The Nissan Commercial Incentive Program offers qualified commercial customers substantial benefits, including your choice of one of the following packages:
No Charge Cargo Management System** - this package includes:
A cargo partition and three 44? shelving units from the Adrian Steel ADseries.
This package is available on either high roof or standard roof models.
No Charge Utility Package** - this package includes:
A cargo partition and a 3 Bar utility rack for standard roof models.
A cargo partition and an interior Ladder Keeper for high roof models.
Contact us about the Nissan Commercial Incentive Program

The 2012 Nissan NV at Grande Prairie Nissan gives you the tough interior you need out of your working fleet vehicle, the conveniences of an office, and the cargo space you need.

Have a lot of passengers? The 2012 Nissan NV HD Passenger Van has been announced, and would be a great addition to your Fleet of Nissan vans!